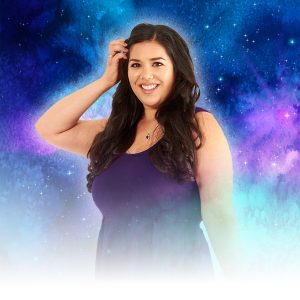 Monica Leonelle has always been fascinated by card reading, the same way she's fascinated by stories. Card reading is a way to tell stories by taking each page of a book and laying it out in a new order every time.
She wrote her first story involving tarot cards in 2014, called The Crown Reading. She acquired her first oracle decks in 2016, the same year she began seriously studying tarot. She now reads cards for fun, pleasure, and insights from the universe and God.
Tarot and oracle card reading was one of the gateways into Monica's spiritual awakening. She shares her readings, spreads, tips, and resources to help spread intuition, magic, and fun to the world. Whether you believe in God, the Universe, source, or none of it at all, you will find some interesting information and insights about card reading and spirituality at Card Reading Queen.
In addition to being the Card Reading Queen, Monica Leonelle is a USA Today bestselling author best known for her young adult urban fantasy and paranormal romance series, Waters Dark and Deep. She also teaches writing, publishing, business, and marketing at TheWorldNeedsYourBook.com. Her most recent nonfiction series, Growth Hacking for Storytellers, has helped thousands of writers write faster, become better storytellers, and find their way to success. She founded The World Needs Your Book event series to bring this training to the world.
Before becoming an independent author, Monica led digital marketing efforts at Inc. 100 companies like Hansen's Natural and Braintree. She's been an avid blogger of marketing and business trends since 2007. Her ideas have been featured in AdAge, The Huffington Post, Forbes, Inc., the AMEX OpenForum, GigaOm, Mashable, Social Media Today, and the Christian Science Monitor.
Monica lives in a very, very old, 3-story home in St. Louis, MO with her husband and adorable westie, Mia. It possibly has ghosts. And definitely has a secret passage!
Monica's Story
<!========= Cool Timeline PRO 3.2 =========>